Natural Resources and Northern Development
Manitoba Geographical Names Program
In Manitoba, the authority for officially naming geographical features has been delegated to Manitoba's Provincial Toponymist as the member on the Geographical Names Board of Canada and the position responsible for the Manitoba Geographical Names Program.
From time to time, the Manitoba Geographical Names Program receives requests to name geographical features in Manitoba and it is important to disseminate and obtain feedback regarding these naming proposals.
Geographical Names Reflect our Cultural and Natural Heritage
Visualize each geographical name as the title of a story revealing some aspect of Manitoba's cultural or natural heritage. The romance of the fur trade is remembered in such names as Portage la Prairie, Fort Garry, Norway House and York Factory. The cultural mosaic is illustrated by the names Blumenort, Gimli, Ile des Chênes, Scandinavia, Selkirk, Shamattawa and Zhoda. Among our 16, 200 official names are many that suggest a physical characteristic of the landscape, such as Sickle Lake, Eight Foot Falls, Long Point and Hollowrock Island. Geographical names are not just words on maps and signs, but vital communication tools that reflect patterns of settlement, exploration, migration, and Manitoba's heritage that may otherwise be overlooked by residents, visitors, and future generations. Consistency and accuracy are essential in referring to places in the province to prevent confusion in everyday business and recreation.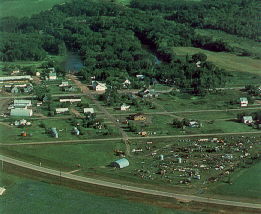 Westbourne: The names of many communities established during the late 1800s can be traced to their post offices or railway stations. These important service centres were named for postmasters (Holland - A.O. Holland), homesteaders (Morden - Alvey Morden) and Prime Ministers (Laurier - Sir Wilfred Laurier). They were also named for local features (Oak Bluff), hometowns (Petersfield from Petersfield, England) or the settlers' dreams of grandeur (Dominion City). Some were named at the whim of railway officials during construction of main and branch lines. For example, the Canadian National Railway stations westward from Portage Ia Prairie were named in alphabetical order starting with Arona, Bloom, and Caye, ending at Zeneta, Saskatchewan, where the cycle began again with Atwater. Throughout the province runs a unifying thread of interesting and beautiful native names, from Pisew Falls and Sipiwesk Lake in the north to Assiniboine River and Neepawa in the south.
Geographical Names Board of Canada
The need for a Canadian names authority was recognized in the late 1800s, when resource mapping beyond the frontiers of settlement and extensive immigration made it an urgent matter to manage the country's geographical names – to standardize their spelling and their application to particular features (1).

To address these problems and those created by duplication and inconsistency in naming practices, the Geographic Board of Canada (GBC) was created in 1897. Soon after, the provinces and territories were invited to provide advice on the use, spelling, and application of names, although until 1961 decisions were ultimately made in Ottawa. At that time, the responsibility for naming was transferred to the provinces. Today's successor to the GBC is the Geographical Names Board of Canada (GNBC). This board is composed of 28 members representing all provinces and territories as well as various federal departments dealing with surveys, mapping, translation, archives, parks, defence and native affairs. In Manitoba, the Minister of Conservation is responsible for geographical naming and has delegated the Provincial Toponymist to be the provincial member on the GNBC and to administer the Manitoba Geographical Names Program.
Manitoba Geographical Names Program
The Manitoba Geographical Names Program's mission is to: "embrace the active preservation of the province's culture through its toponymy, the on-going development of a geographical names data base and associated publications, for recording and disseminating authoritative province-wide toponymic data.
The program and branch support staff administer and maintain all nomenclature records, an automated names information system (Manitoba Geographical Names Data Base), a resource library and archives, supplementary name location maps, a bibliography of name studies and a commemorative names project. The objectives of the program are: to ensure the application of uniform standards and principles to geographical naming throughout the province, to conduct research on proposed and established names, and to provide an information centre on nomenclature for our clients (government, public, and private).
Manitoba Geographical Names Data Base (MGNDB) This relational data base contains the more than 24, 000 active and heritage place names found throughout Manitoba. For each place name, the data base contains geographic coordinates, the type of feature, the name's approval data, its location reference, plus any heritage information recorded about the name. Utilizing the MGNDB, we are pleased to provide many value-added data sets including:
Digital data sets such as (DXF, SHP, and KML); and
Features named after war casualties.
In addition to the maintenance and use of provincial data, Manitoba ensures its data is uploaded to the Canadian Geographical Names Data Base in Ottawa ensuring all provincial decisions are available nationally and internationally.
The Commemorative Names Project The program is continuing to name geographical features after Manitobans who died during war service. More than 4,200 lakes, rivers, creeks and other landscape features have been named for World War II, Korean War, United Nations Peacekeeper, and Afghanistan fatal casualties. Most of these names are located in remote areas of the province. Since 1972 the Program has provided a commemorative name certificate displaying approval and location details to the eldest next-of-kin. Duplicates are available at a nominal charge.
Researching Geographical Names
Place names provide the most useful geographical reference system in the world. The study of such names is called "toponymy" from the Greek words 'topos' (place) and 'onoma' (name). Although such a study depends mainly on geography, it is equally concerned with history and linguistics. The toponymist not only relies on maps and local histories, but interviews local residents to determine the names with established local usage. The exact application of the name, its specific language, its pronunciation, and its origin and meaning are all important facts to be recorded during a name survey.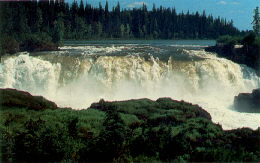 Pisew Falls, Grass River: Interest in the origin of these names has increased in recent years, often through genealogical and historical research inspired by centennial celebrations and local history projects. The toponymic resource material, if properly analyzed, can reveal patterns of settlement, exploration, commerce, transportation and immigration. Besides the vast usefulness of names in communication, almost everyone finds something inherently fascinating about place names. Many names tell their own stories: Devils Punch Bowl, Hoop and Holler Bend, Daredevil Hill and Spoon Lake. A keen researcher may come across the first record of such names in a diary, a local history publication, on a map or in a telephone directory. Who knows, that person may be YOU!
Why are some names changed?
Sometimes, geographical names may be changed. The community of Rosenort (near Gretna) was renamed Rosetown to differentiate it from the more prominent Rosenort in the same region of the province. Changes in the form of a name (like Kronstal to Kronsthal) occurred because of local usage and the desire to standardize similar names in the area.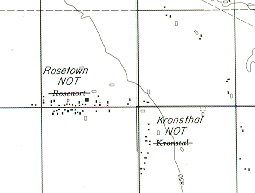 Supplementary name location maps are necessary in maintaining geographical name data. Here a portion of National Topographic System (NTS) map 62H/4, has been amended to show current community names.
Years ago, the perpetuation of unofficial names was commonplace. Today, cooperation between government departments and agencies has established more rigorous standards to avoid indiscriminate use of unofficial names. In the case of Neubergthal, an official decision was necessary to change the spelling from New Bercthal before a new highway sign was erected.
Principles and Procedures
Guiding Principles Manitoba adheres to the guiding principles and procedures established by the Geographical Names Board of Canada. For proposals or name changes, each name is checked and verified as to its spelling, geographical coordinates, and compliance with the following principles:
In summary, the guiding principles are :
Names created by legislation are accepted.
Priority is given to names well established in local use.
Names used by postal, transportation and major utilities are accepted, if in keeping with other principles.
Specific limits of features must be recorded. Use of the same generic for part of a named feature as for the whole feature should be avoided.
Personal names are not accepted, unless exceptional circumstances exist.
Preferred sources of new names (i.e. where no local names are in use) are appropriate descriptive words, names of pioneers, explorers and historical events connected with the area, names from Native languages identified with the general area, and names of persons who died during war service.
Names should be euphonious and in good taste.
A name is usually approved in a single language form in the Roman alphabet. Other forms may be sanctioned by the appropriate names authority. Names from languages other than English or French should be written in the best recognized orthography. Names for some selected features of pan-Canadian significance are recognized in both English and French for use on federal maps and texts.
The spelling and accenting of names follow the rules of the language in which they are written.
Names of service facilities (e.g. post offices) in a community should conform with the official name of the community. Names with the same specific applied to associated features should agree in form and spelling.
Duplication of names should be avoided if confusion may result.
The generic term should be appropriate to the nature of the feature. It is recorded in either English or French by the names authority concerned.
Qualifying words (e.g. "upper", "west branch", "nouveau") may be used to distinguish two or more features with identical specific forms.
The adoption of a name of a minor feature is guided by the relative significance of the feature, familiarity with the name, and the scale of mapping available.
Procedures for a New Name or a Name Change Proposal
With an understanding of the guiding principles, individuals or organizations may propose a new name or name change for a specific geographical feature. Serious consideration will be given to proposals accompanied by a well-documented justification. This should include specific reasons for consideration, identification on a map or sketch, location by latitude and longitude, and the origin and meaning of the name. Often comprehensive research is required to determine whether other local names exist for the feature in question. It may include interviews with area residents and government officials, and a search of archival and land records to determine or confirm origin and location data. Once the name meets the established criteria it is included on a GNBC decision list and duly signed by the Manitoba representative. The name is then entered in the provincial and national automated toponymic data bases and added to the supplementary name location map records. The name becomes available to compilers of maps and other documents immediately after the name has been approved in our office. The data is available in digital and hardcopy formats. All official maps, plans and publications must use the official names recorded here.
How can I help?
Reliable and documented information concerning corrections in the use, spelling or application of geographical names on maps and signs, and in other publications is welcomed. YOU can help by becoming more aware of the names you use each day. Your understanding of their significance will encourage you to share information and to discuss your concerns with our program staff. For instance: if YOU doubt the spelling or application of a name on a map or sign; if YOU have name origin data to supplement our records; if YOU discover that an unofficial name is being perpetuated on maps or signs and in reports and other documents; if YOU are researching a geographical name for use in an Order in Council, on a licence, permit or regulation; or if YOU require additional information.
Please contact
Manitoba Geographical Names Program
Lands Branch
200 Saulteaux Crescent, Winnipeg, Manitoba Canada R3J 3W3
Telephone (204) 945-1798
Fax (204) 948-2197
Email Des Kappel
Suggested References
Geographic Board of Canada, Place-names of Manitoba, Department of the Interior, 1933. Canadian Permanent Committee on Geographical Names, Gazetteer of Canada: Manitoba, Geographical Names Section, Mapping Services Branch, Natural Resources Canada, and Land Information Division, Manitoba Natural Resources, 1999. Historic Resources Branch, The Origin of the Name Manitoba, Manitoba Culture, Heritage and Recreation, 1984. Ham, Penny. Place Names of Manitoba, Western Producer Prairie Books, Saskatoon, 1980. Mulligan, Helen and Ryder, Wanda. Ghost Towns of Manitoba, Heritage House Publishing Company Ltd., 1985. Rudnyckyj, J.B. Manitoba Mosaic of Place Names, Canadian Institute of Onomastic Sciences, 1970.
1. Geographical Names Board of Canada
Need More Info?
Email or call us at:
204-945-6784
1-800-214-6497
Quick Links
Resources